On 14. November 2013 the " Prince Kamal El Din Press Conference" took place on behalf of his Excellency the Ministry of Tourism, Egypt.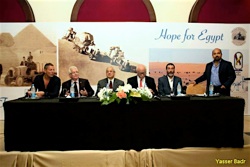 Place: JW Mariott – Clubhouse  - Ballroom

The minister of tourism, Mr. Hisham Zazoo, opened the conference by presenting the idea to promote Eco tourism in Egypt by a worldwide media campaign leading to the final event  "THE KAMAL EXPEDITION – In the footsteps of the prince". In March 2014 this will be a unique desert expedition to Gilf Kebir.

Mahmoud Kaissouny, advisor to the minister of tourism and to the minister of environment gave a lecture about Eco tourism in Egypt, and the famous actors Tamer Hagras and Mahmoud Kabil supported the mission of the project by talking about "Hope for Egypt".

Following the slogan "Traces of history – steps into the future" the mission and the vision of the project were presented to national and international media.

» more information - see our facebook profile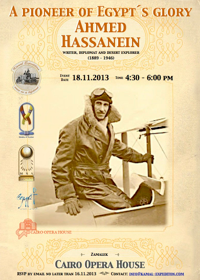 The Event - A pioneer of Egypt´s glory

Included in the series of events around the "Kamal-Expedition" on 18.11.2013 we introduced the following: "A pioneer of Egypt´s glory" – Ahmed Hassanien Pasha, desert explorer, writer, sportsman and diplomat.

In the Open Air theatre of the Cairo Opera House a mixed program was presented around desert and culture. The Kamal-Expedition and his vision, "Gebel Uweinat – an outstanding place", "Rockart" and a children dance group as well as a singer offered the possibility for the audience to enjoy and to learn.

» more information - see our facebook profile